Do you need a cardboard tube with custom printed design for your delicious chocolates, biscuits or protein powders? Maybe you need a sealed plastic container for your speciality loose tea leafs. Our plastic and cardboard tubes are perfect for food packaging of all types. Choose from a huge variety of food grade finishes and materials. Including the vintage brown kraft paper or vibrant litho printed colours. Cardboard and plastic with flip top lid or ring pull closure. The possibilities are endless.
ISO & BRC Approved Packaging Manufacturers
Visican has been making custom luxury tubes for almost 40 years. Producing packing for food and drinks Industrial industries. Working for new coffee start-ups to multinational brands such as Budweiser and Hotel Chocolate. Trust Visican to make eyc-catching packaging that presents your products in the best possible light.
Here are some of the examples we have previously produced: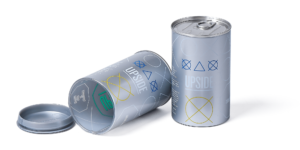 All our tubes are made in the UK to the BRC standards for packaging for direct food contact.
If you need food packaging tubes for anything mentioned or would like a quote for something we haven't mentioned, get in touch with us today.